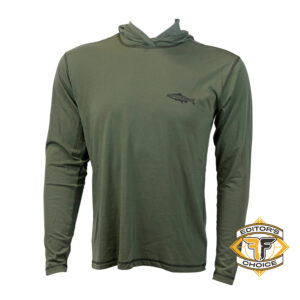 Recently, my daughter asked me why, almost every day, do I wear the same blue hoodie I bought at the visitors' centre in Grande Cache?
I wasn't sure how to answer her. Am I getting old as dirt? Perhaps. But also: when I find something I like, I stick with it. Which is why it's been such a treat—and a bit of a relief, I suppose—to have found a new favourite hoodie.
The RYW Sun Hoody is a Merino wool blend that fits and feels right. It's soft and light and breathe-able while being protective of the summer-season elements (UPF 30+), but also great as a base-layer when temperatures start to drop—which they have, at least up here.
Recently, on a wind-whipped stream at 1,600 metres I found myself thankful for the shirt's oversized hood, and then later, tucked into my camper, I was glad for its supple, slightly-stretchy material as I slid into my sleeping bag. I don't usually sleep with a shirt until I get to know it a little better, but what can I say? I was genuinely seduced: Rep Your Waters donates three per cent from every purchase to conservation groups.
Supporting our local conservation orgs isn't something we all tend to make time for. I'm not saying buying a shirt is the same as volunteering for your local TU, but if a company is showing that they're willing to walk the walk when it comes to giving back to our rivers, I'm certainly willing to give their line-up due consideration if I'm in the market for new gear.
RYW's Grass Merino Sun Hoody suits my needs. It has the utilitarian mark of simple, quality design and because its materials are naturally odour-reducing (thanks, Merino sheep!), whether I'm picking off small rainbows in a shallow riffle of picking up kids after school, I can wear it as my daily-driver.
Now, if my daughter asks why I always wear the same hoody, at the very least, I have an answer.