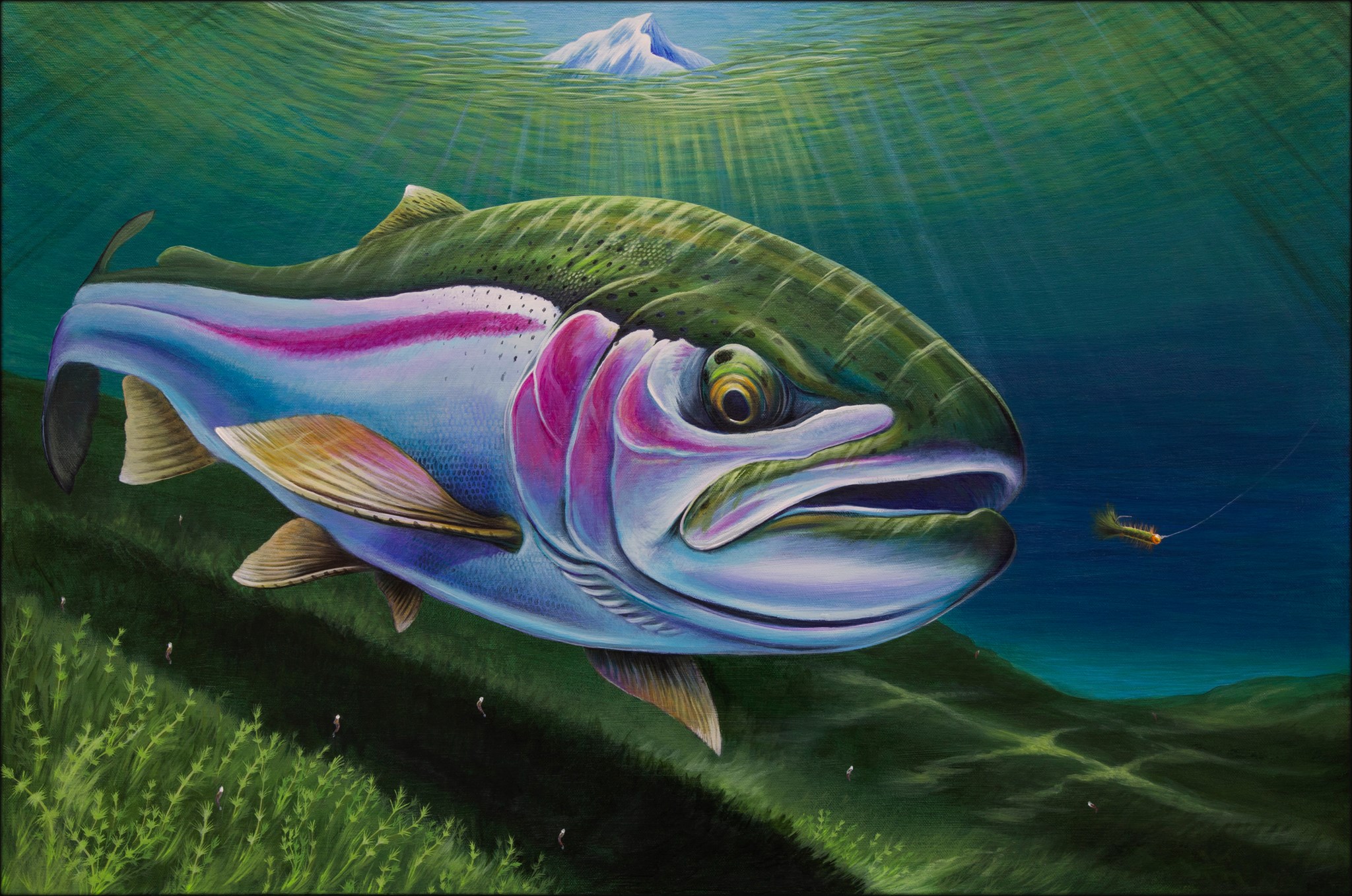 "You might be doing your best to identify the bug the trout are eating, using your magnifying glass to count body segments and checking your phone to find out what the perfect imitation is, but after all that you might not bother to use the right size tippet for the tiny fly that Siri tells you to use."
by Jim McLennan (Image by Nick Laferriere)
It's a cliche to say that (insert name of any sport here) is a "game of inches," but like many cliches, it's often true. Little things matter. And it's true in our sport as well. Some of the little things I'm thinking of here actually help you catch fish. These are things like remembering to check your tippet for knots, or making sure your hook still has a point before you miss three strikes, rather than after. Little things are usually simple things, which probably explains why they're so often and so easily overlooked. You might be doing your best to identify the bug the trout are eating, using your magnifying glass to count body segments and checking your phone to find out what the perfect imitation is, but after all that you might not bother to use the right size tippet for the tiny fly that Siri tells you to use. 
About forty years ago I was guiding a good friend and his companion on the local river. We were standing side by side at the end of a little tailout. A number of fish were rising a short distance ahead of us, but my fishermen couldn't get a take because the increasing speed of the water in the tailout made his dry fly drag just before it reached the fish. I had him take two steps to the left, which let him put his line in water that wasn't accelerating as much. He made two casts and hooked a nice fish. It was a little thing that made a big difference. This falls into the category of "choosing the best casting position." Think about where you're standing. Are you in the best spot to get the best presentation to the fish? If possible, move to a place where you can make a short, easy cast, rather than a long, difficult one. 
If a fish is rising to tiny bugs in slow, glassy water, don't be in such a hurry to start casting that you leave on the size 6 hopper rather than changing to a smaller fly more suitable for the circumstance. The clumsy landing of a big floppy fly will probably scare the trout right out of the pool. 
If you're casting to a rising trout and it stops rising, stop casting. Wait and watch. The fish's suspicion might have been aroused by your repetitive casting, and it may have stopped feeding because it suspects something a little unusual is going on. So don't keep pounding casts over the fish, as that will likely turn the suspicion into outright fear. Better to wait, let the fish's alarm meter recede a bit, and let it feed confidently a couple of times before you cast again. And while you're waiting, you should probably change flies and check your tippet for knots. 
These last couple of items make me realize that many of the "little things" are about resisting the urge to be in a hurry. It's easy to barge in and start casting the instant you get to the water's edge. But it's better if you stop, watch and think for a minute first. Hurrying rarely has any benefit in fly fishing. So slow down out there. Watch the water awhile before you cast. You might see a fish feed, which is the best pre-cast information you can have.  
Here's a big little thing: Take the time to do the things you know you should do, like cutting back your tippet so it's the right size for the big streamer you're going to throw into the pool. And get rid of that wind knot that you know is in your tippet. You'll know you're headed for trouble when you hear yourself utter the words, "Oh, well. I'm not going to worry about it…" Ignorance of these things is acceptable; knowledge of them without addressing them is dumb. 
Some of fly fishing's little things don't have much to do with catching fish, but a lot to do with enjoying the fishing. For example, it's not much more difficult to make a decent lunch than it is to grab a bag of chips and a pop, and if you remember to put some folding chairs in your vehicle, you'll find that lunch becomes a source of pleasure rather than just a fuel-stop. Some of us find that a sip of brandy from a flask at the end of the day adds the perfect final touch to a good outing. 
If you can take your eyes off the water occasionally (and yes I know this increases the possibility of missing a strike or seeing a fish rise) you'll be surprised and pleased at the pleasant things you find – in the sky, the trees and the rest of the landscape. 
One of my favourite parts of a fishing trip is taking a nap along a stream. I love to lay back and close my eyes, hearing the water and the other sounds of a wild and natural place. I was pleased recently to find that I'm not alone in this opinion. A character in a novel by Wendell Berry, a great poet and writer of rural fiction, said, "One of the best things you can do in this world is take a nap in the woods." Amen to that. 
I guess you've just read the cliched "stop and smell the roses" part of this article. I'm tempted to apologize, but won't, because again, some cliches are that because of the truth they carry. So stop, look, and listen. It might help you catch fish, but it will help you enjoy time on the water.