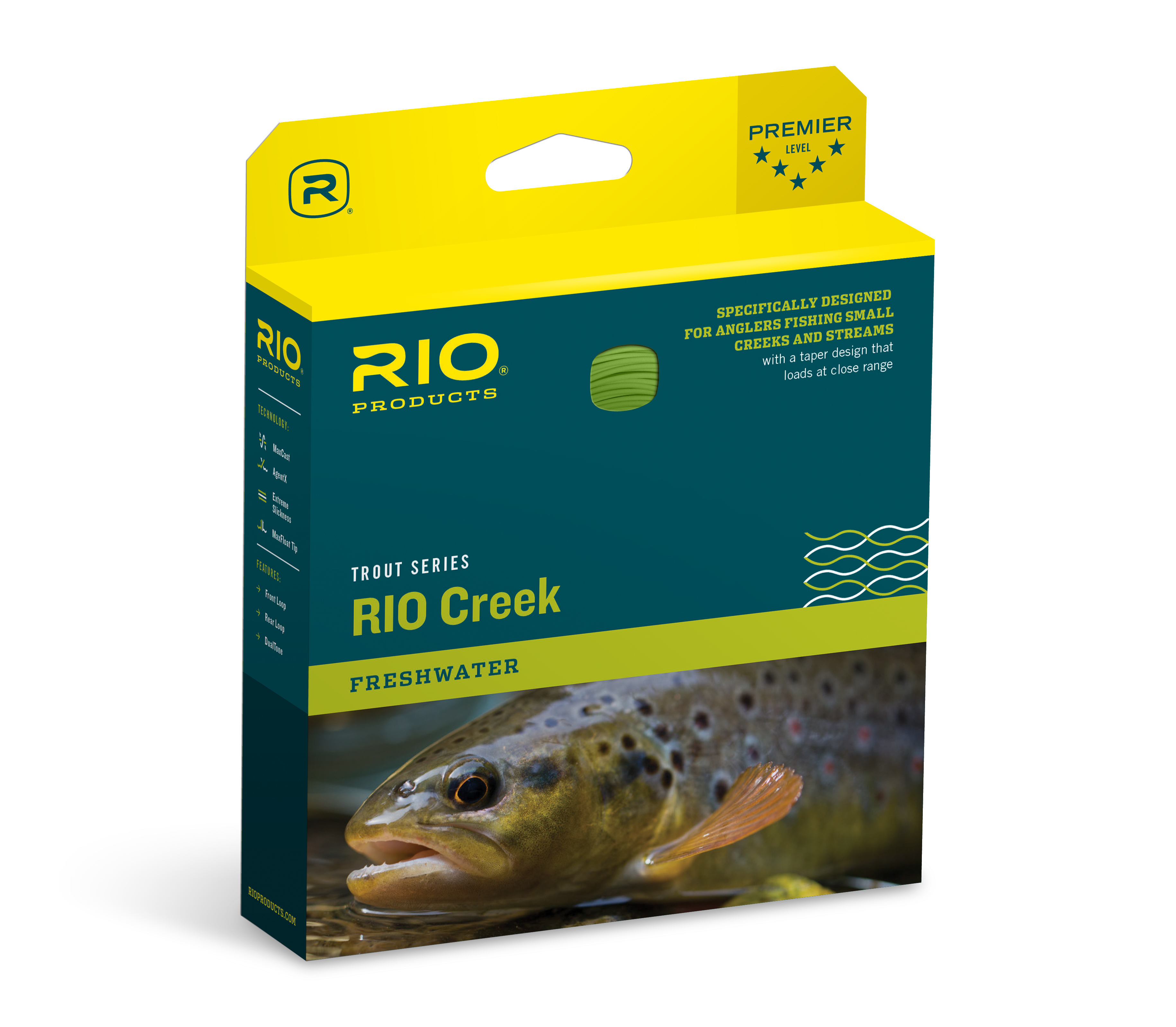 RIO–The RIO Creek line is designed for small creeks and streams with a taper design that loads at close range but has enough body and head length when a longer cast is needed. It is ideal for nymphs, dries and small streamers, and its supple, coldwater core provides tangle-free performance. RIO's MaxFloat Tip ensures the line does not sink. Available in WF0-WF4F options in green/yellow coloration for $79.99.
The InTouch Big Nasty Sink Tip line is a multiple density sink tip line designed to cast large and heavy flies thanks to its front-loaded weight distribution and ultra-low stretch ConnectCore. The seamless blend of three or four densities ensures a smooth transition of energy when casting and the best depth control while fishing. It is available in float/hover/intermediate (F/H/I), float/hover/intermediate/sink 3 F/H/I/S3), and a float/intermediate/sink 3/sink 5 design (F/I/S3/S5). The different densities are designed to give anglers the option of fishing at different depths, with the F/H/I an ideal choice for fishing in the top two feet of the water column, the F/H/I/S3 a great line for fishing 2-4 feet in depth, and the F/I/S3/S5 being perfect for fishing between 4-8 feet in depth. Available in August for $99.99
For anglers heading deep into the jungle in pursuit of peacock bass, dorado, or pacu, the DirectCore Jungle Series from RIO is the line of choice. Its powerful front taper delivers large flies with ease, while the easy annealing, low-memory core lays perfectly straight. The hard, tropical coating ensures it will not wilt in the extreme heat. There is a full floating line option and a F/I that has a floating running line with a 30-foot intermediate head with 10-feet of that being clear. The F/S3 is a floating line with the front 20-feet being type 3 sinking (3-4ips). The F/S6 is a floating line with the front 20-feet being a type 6 sinking line (6-7ips). Available at RIO dealers in August for $119.99.
Trout anglers can make an easy choice for leader selection with RIO's Powerflex Trout Selection. This selection pack contains three different 9-foot trout leaders each being one of the most popular sizes. Consumers can choose between two selections: a 9ft – 3X, 4X, and 5X leader, and the other with a 9ft – 4X, 5X, and 6X leader in. MSRP $12.99.
RIO also adds a new length in its popular Fluoroflex Trout Leaders with 7.5-foot lengths from 5X to 0X for $14.99.