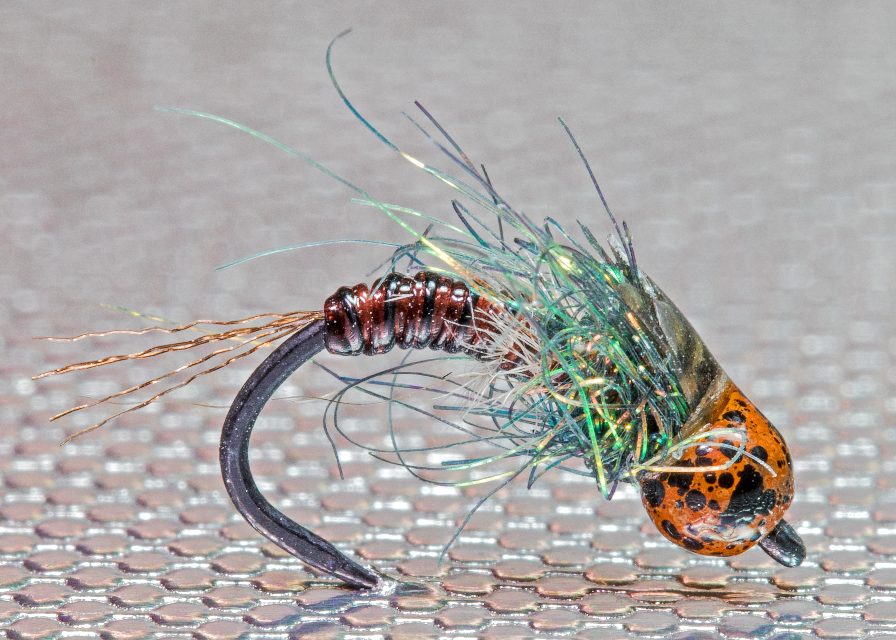 by Bob Reece
Transition stages in the subsurface development of aquatic insects are often times of vulnerability. During these metamorphic moments, the bug's full range of motion and the responsiveness of its senses are temporarily lost. This means easy food for trout. With these factors in mind I designed my 307, a transitional mayfly pattern that is a productive divergence from the norm.   
The Tiemco 2499BL-Bk hook pins itself in place in trout jaws with its upturned super point, and has the strength to handle large fish. Its matte black finish can be beneficial on heavily pressured waters.   
Flouro Fiber forms the tail of this pattern. Small UTC wire inserted into midge stretch tubing is used to create raised segmentation in the abdomen. The smoothly raised divisions of the wire accent the transparency provided by the stretch tubing. This combination is very durable.  
Ostrich herl and Ice Dub form the bulk of the thorax. Their movement and reflectivity suggest opaque appendages and internal gasses in the transitioning naturals. The enlarged and elevated wing case further accentuates this important trigger.   
The mottled tungsten bead accelerates the 307 to the targeted depth. More importantly the mottled olive and brown colour provides a more natural look than the metallic sheen of traditional beads. This can be especially important in times of extreme water clarity. It is also beneficial on waters that see heavy fishing pressure.  
Anytime mayflies are hatching, a properly presented 307 will produce fish. I often fish it as a dropper below my preferred dry in the early morning and late-day hours. During an active hatch I shorten my dropper tippet so the 307 rides six to eight inches below my dry. This can be deadly when the colouration of the fly matches the emerging mayfly. It's also important to remember that many emerging mayflies fail to break through the surface film and subsequently perish. These failed emergers sink and drift along the bottom. As a result, the 307 is also an effective pattern for deeper water indicator-rigs. Click here to check out the tying video.