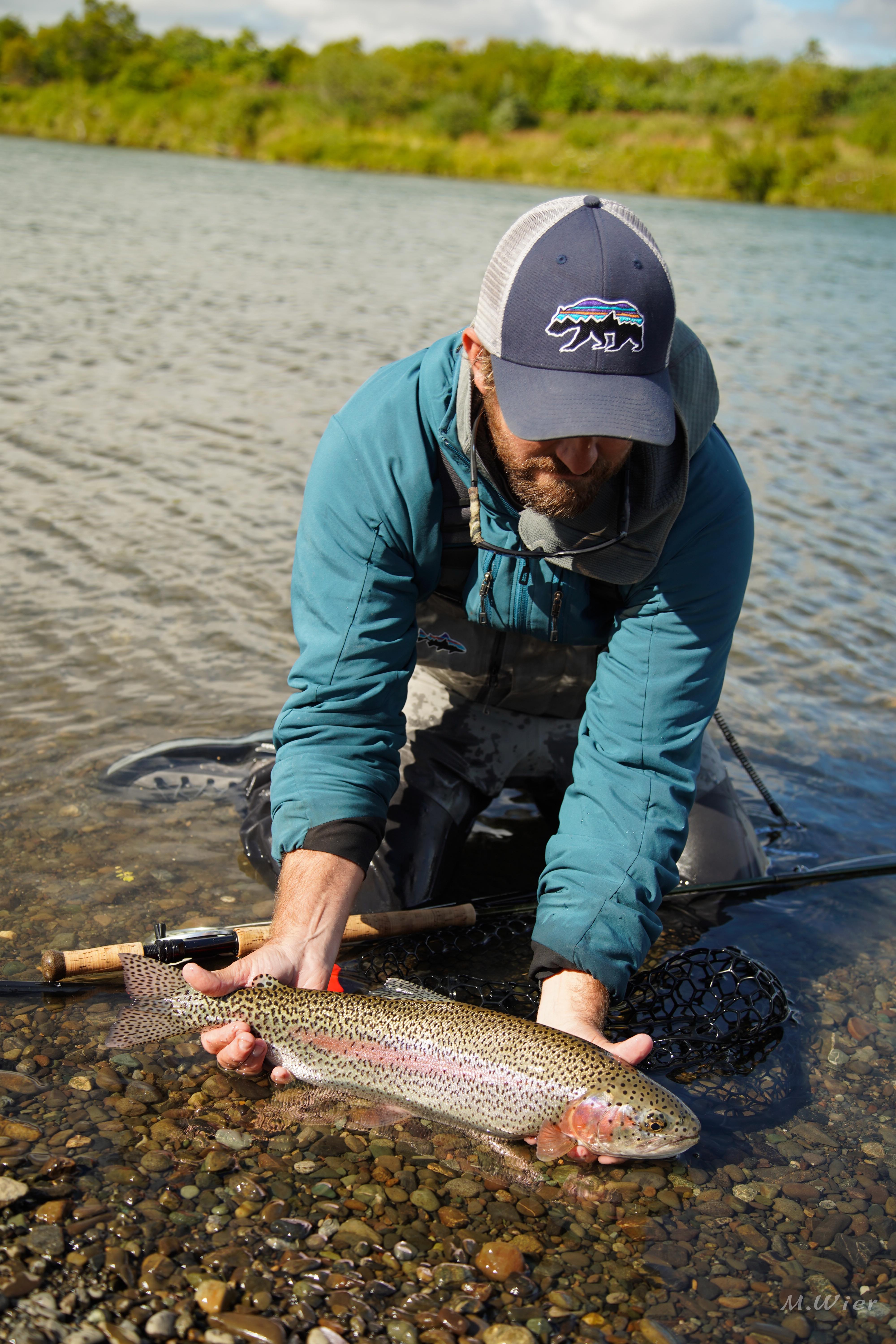 Fly Fusion caught up with Michael Wier to chat about his newer films, his role with CalTrout, and the environmental challenges facing fly anglers.
Derek Bird: Do you have any upcoming film projects that you can chat about right now?  
Michael Wier: We have a new movie from Alaska that is going to be featured in the 2018 International Fly Fishing Film Festival, and it is called DIYAK, which is short for Do It Yourself Alaska. The film centers on a trip that we took down a remote river in Alaska. We floated over a hundred miles from the lake high in the headwaters all the way down to the Bering Sea and just absolutely hammered fish the whole way. We caught all five species of salmon, grayling, Dolly Varden, and big Alaskan rainbows—most of them on mice.  
There's another film as well. It's about the Eel River. I've been working on it with my friend, Shane Anderson, who's done a number of really cool environmental films. The film is called A River's Last Chance, and it's a story of the water wars in Northern California. It focuses on the conflicting interests between weed, wine, and water on the Eel River. Different groups are all fighting for a bit of the water out of the Eel and that affects our native fish.
And the Eel is one of the last mainly wild, free-flowing rivers on the west coast of California, and it's one of a very few rivers where populations of wild steelhead are actually trending up. There are no hatcheries, and there's a lot of wild habitat. A lot of groups including the organization I work for are really making a hard push to protect the last of the best in the Eel Watershed.  A River's Last Chance is a feature length movie.  
DB:That sounds like a very worthwhile project.  
MW:It was a really fun project to work on, and it's a great cause. And I had spent three years up in the Eel River Watershed working on a movie of my own for California Trout called Return to Abundance, and so it's nice because the two movies can be paired together. We're going to do screenings where a short version of my movie is going to play, and then Shane's move is going to play. Then a number of us are going to sit there and be able to do Q&As with the audience and really talk about some of the issues and get down to the heart of what needs to happen to preserve our last best stocks of wild salmon and steelhead in Northern California.  
DB:The Eel River project you guys are working on, can you outline a little more specifically what the threats are against the river?  
MW:There are several things happening in the Eel right now. Historically, one of the biggest issues was logging. There's been massive logging in the headwaters and the entire watershed of the Eel River. More recently, there is an exploding viticulture industry, and so a portion of the water from the Eel River is siphoned off and sent into the Russian River drainage where it's used to grow grapes. Then in the last decade, there has been a huge explosion in cannabis cultivation throughout the headwaters of the Eel, and a lot of those water diversions are illegal. People are siphoning off water out of the tributaries of the Eel where salmon and steelhead historically spawn, and now those tributaries are going dry in the summer.
The historical effects of logging, the current effects of agricultural interests, and the cannabis industries are putting a strain on the river's water supply. That's severely affecting native fish recovery. Hundreds of thousands of dollars have been spent on native fish recovery actions and restoration, and not having enough water instream is jeopardizing all that money that's been spent on native fish recovery, including federally listed species like coho salmon.   
DB:These species are obviously all very sensitive to flow rates during specific times of the year.  
MW:What happened is the Eel was historically one of the best fisheries for wild steelhead and salmon. It was an an incredible fishery for fly fishing. I mean, really it was, along with the Russian River, the birthplace of the techniques that we use for fishing for salmon and steelhead on fly gear. It was a super important and popular fishery back in the '40s, '50s, and '60s. Then in the '70s and '80s, it just had a huge collapse where the fishery just broke down, and the effects of the logging and some big floods just really hammered the watershed. Then slowly over the last couple decades, it's been making a comeback, and now the Eel is kind of on a precipice where it's now or never. We need to work on our policies and help these fish make a recovery because it could be the river's last chance to sustain these truly wild runs of salmon and steelhead.  
DB:You're quite involved with California Trout. What's your role with them and is this how you found out about the Eel River project?  
MW:I work full-time for California Trout these days. I am the Fish Ambassador and field reporter. I got the best job out there. I get to travel around to all these really cool rivers and areas where we're doing restoration and conservation activities. All of them are on blue-ribbon trout streams or quality steelhead rivers on the cost or in beautiful High Sierra Meadows, so it's a really great gig. I'm kind of a rover, so I get to see all the CalTrout projects throughout the state and go and take pictures and shoot video and help sell these stories. I kind of help bridge the gap between the technical, science-based conservation work we're doing and our main constituents which are anglers.
I help sell these stories and how they relate to fishing and to better fishing and to preserving our native, wild stocks of salmon and steelhead because, to me, that's the true heritage of California. We have the greatest diversity of native salmons of any other state in the lower 48. A lot of them are teetering on the brink of going extinct, so we're kind of the last line of defense for these populations of native fish. It's also about preserving source waters, springs, High Sierra Meadows, preserving salmon strongholds—places like the Eel River, the Smith River, and the Klamath River.  
CalTrout spent over 20 years advocating for removing the dams on the Klamath River, and that just got the green light this year. All four dams in the Klamath are going to come out starting in 2020. That will be the largest river restoration project in US history, and maybe in the history of the world.  
DB:Why do you think it's so essential for fly anglers to be involved in conservation?  
MW:Conservation is the future of fly fishing. Without watch groups like anglers advocating for natural resources, they're going to get hammered and ground up in the gears of industry. It's really up to us to be the watch guards of the things that we love, the places that we love, and the places that fish live. We're the people that connect with those resources the most, and people that have the deepest understanding of those ecosystems and those resources. Collaboratively, we need to come together and stand up for the places that we love and the ideals that we believe in which, to me, is having wild fish on our landscape, being able to share our rivers with salmon, with steelhead, and with trout. We need to find creative, innovative, science-based solutions that can help balance the needs of wild fish and people.  
DB:What do you see as being the most pressing issue for the future of fly fishing?  
MW:Right now I would say climate change is probably one of the biggest things affecting fly fishing worldwide, and we've seen a huge decline in our fisheries here in California because of the five years of drought that we just went through. Last winter was one of our wettest winters on record, and the five years previous were five of our driest. That really affected our fisheries across the board in California. The simple equation is more water, more fish, and so when we're getting less water, it just makes it tough on all of our fisheries.  
You compound that with added pressure because more and more people are getting into the sport of fly fishing. There's only a finite number of places that you can go fishing and that fish live, and so the more people that get into the sport, there's more strain on those finite resources. It's up to us to find creative ways to come together and address some of these issues, whether it's warm water, saltwater, and cold water streams.