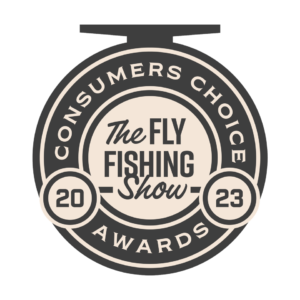 Anglers who attended the Fly Fishing Shows across America have voted on their favorite products, and the results are in…
Fly-fishing aficionados of all ages and skill levels—from trout enthusiasts to purveyors of the saltwater flats—were given the unique opportunity to vote for their favorite products among those exhibited at the popular Fly Fishing Shows held across America this winter and spring.
Voters from 15 countries around the word cast over 17,000 votes for 183 different products in 41 categories ranging from rods and reels to waders, boots and polarized sunglasses.
The big winners included Ross Reels, which swept both the freshwater and saltwater reel categories with its "Evolution" model. Similarly, Scientific Anglers took top honors for freshwater and saltwater fly lines with the Amplitude Smooth MPX and Amplitude Smooth Grand Slam, respectively. Umpqua's Thunder Grass hopper was the winning freshwater fly pattern, and its Danger Muffin Crab claimed top spot for saltwater fly. Fly-fishing upstart Skwala won the outerwear and wader categories, and Simms Fishing Products took top honors in nine other categories.
Here are all the winners for 2023:
Most Innovative: Simms G4 Pro Powerlock Boots
Sunglasses: Bajio Piedra.
Fly Rod (freshwater): Hardy Aydon
Fly Rod (saltwater): Thomas & Thomas Sextant
Fly Reel (freshwater): Ross Evolution FS
Fly Reel (saltwater): Ross Evolution FS
Men's Waders: Skwala Carbon
Women's Waders: Simms G3 Guide Stockingfoot Wader
Women's Wading Boots: Miss Mayfly Moxie
Men's Wading Boots: Simms G4 Pro Powerlock
Youth Product: Simms Kids Tributary Stockingfoot Wader
Accessories under $50: Simms Taco Wader Bag
Accessories $50-100: Norvise Automatic Fly Tying Bobbin
Accessories over $100: Fishpond Nomad Mid-Length Net
Artwork: Cody's Fish Brown Trout License Plate Art
Boat (personal watercraft): Watermaster Kodiak Raft Package
Books and Maps: Joe Humphrey's Trout Tactics (revised edition)
Chestpack/Vest: Simms Dry Creek Z Sling Pack
Eco-Friendly Product: Simms Fall Run Insulated Hoody
Entertainment/Education: "Trout and Feather" (YouTube)
Fly Box: Tacky Original River Mag Box
Fly Hooks: Tie! Jig Force Sizes #20 and #22 by Fulling Mill and Umpqua
Fly Line (freshwater): Scientific Anglers Amplitude Smooth MPX
Fly Line (saltwater): Scientific Anglers Amplitude Smooth Grand Slam
Fly Pattern (freshwater): Umpqua Thunder Grass Hopper
Fly Pattern (saltwater): Umpqua Danger Muffin Crab
Fly Rod (Two-Handed/Spey): Temple Fork Outfitters Pro III
Fly Rod (Freshwater): Hardy Aydon
Fly Rod (Saltwater): Thomas & Thomas Sextant
Fly-Tying Materials: Umpqua Jig Bombs
Fly-Tying Tools: Norvise Automatic Fly-Tying Bobbin
Fly Tying Vise: Renzetti Limited Edition Traveler
Freshwater Combo Kit: CD Fishing All Fly Ultimate Plus
Gift Items (under $100): Atollas Fly Caddy
Insurance (guide and outfitter): Cross Current Guide Liability Insurance
Leader/Tippet: Scientific Anglers
Luggage/Backpack: Fishpond Thunderhead Submersible Backpack
Men's General Apparel: Rep Your Water Merino Wool Blend Retro Camo Sun Hoody
Men's Outerwear: Skwala Fusion 3/2 Puffy
Women's Outerware: TWO WAY TIE: Simms G3 Guide Jacket / FISHE Steel My Heart Riffle Snap Fleece
Tenkara Rod: Tenkara Tanuki Pocket Ninja
Women's General Apparel: Simms Solarflex Cooling Hoody